Worcestershire on Film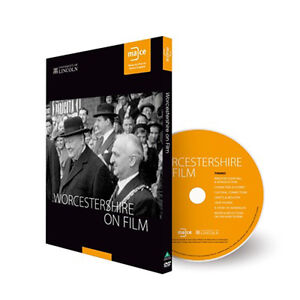 Running Time: 71 Mins
Format: 1 Disc, DVD PAL       
Ratio: 16:9 (Archive 4:3)
Optional Subtitles                                                                                                
£7.99 
Worcestershire on Film, produced and edited by acclaimed filmmaker Andy McKay and his team at the University of Lincoln's School of Media, pieces together rarely seen and newly restored 20th century films of the county that are preserved at the Media Archive for Central England (MACE).
Chapters
Introduction & Winston Churchill
Characters & Stories
Cultural Connections
Crafts & Industry
Crop Pickers
A Story of Asparagus
Water & Reflections on the River Severn
Worcestershire is a county steeped in history and between its rolling countryside and Rivers Avon and Severn sits towns, villages and communities rich in manufacturing, crop growing and cultural heritage, from market gardening in the Vale of Evesham to carpet making in Kidderminster.
Amongst the films are a variety of reports from the regional news programme ATV Today which ran from 1964 to 1981, including village reaction to the possible sale of St Jarvis' Church Spire to America in 1968; the 1969 demolition of the house on Rainbow Hill where Sir Edward Elgar died; apple picking and asparagus farming in the 1960s and 1970s and reports from the 1960s to 1980s on flooding in the county when the River Severn burst its banks.
There is also a focus on industry including a 1925 film illustrating carpet making in Kidderminster and a look at needle making in Redditch in 1968.
A variety of films captured with skill by amateur filmmakers can also be seen, including shots of Winston Churchill's visit to Worcester on 20th May 1950. This section includes a glimpse of the newly discovered letters between Churchill and the city's mayor, encouraging Churchill to make this visit after he was granted the freedom of the city in 1945.
The DVD also includes a short film, 'About MACE', a behind the scenes look at the work of MACE and the services they provide.